Onboard retail technology (TS4)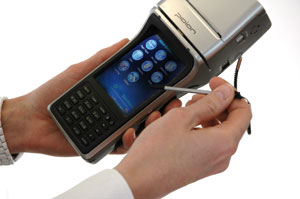 Having the right technology is a key success factor in managing onboard retail projects.
eGate Solutions TS4™ is the solution We offer robust, feature-rich onboard retail technology under the name TS4. 
Operating like a mobile cash register, TS4 features a barcode scanner and thermal printer. It uses wireless electronic point-of-sale (ePOS) technology, powered by a separate communications network, to provide an onboard payment processing system for credit card, cash or smartcard transactions.
What's more, the end-to-end solution operates under PCI Level 1 Service Provider compliance, giving you and your passengers the security of knowing all transactions are safely processed.
Robust Data Processing & Reporting
Onboard retail is a complex process that generates huge volumes of data. TS4 can help you use this data to professionally manage your retail program and maximize revenues.
For example, TS4 can reconcile real-time sales to inventory to reduce shrinkage and can be programmed to identify passengers' buying trends, among other reporting functions.
Customer-specific solutions
TS4 has three distinct software and support options:
1. An onboard sales and payment processing system that helps airlines, railways and ferry operators worldwide facilitate the sale of physical products and virtual products, such as airport transfer tickets and theme park passes, while also tracking sales, inventory and revenue.
2. A complete suite of back-end solutions, offering you sophisticated reporting tools to support trend analyses, merchandising and promotions, inventory management, and other services.
3. A third service specifically designed for railroad companies and commuter rail operators -- streamlines onboard ticket sales and ticket validation, tracks sales and inventory, and reduces fraud.
Physical & Virtual Sales
Some of our existing customers use the system to sell ground travel, entertainment packages or shows, and even lottery tickets, in addition to food, beverages, duty-free goods and other tangible onboard retail items.
Want more functionality and control over your onboard sales initiative? Looking to operate a more powerful, flexible and secure sales program? Here are 7 reasons why you should implement TS4 today!
7 Reasons to Select TS4
1. Patent Pending End-To-End Solution
TS4 has a robust onboard payment processing system for credit card, cash or smartcard transactions, combining an easy-to-use hand-held terminal with the latest in onboard sales technology. By working with us, you get integrated transaction processing at the front end and retail sales management, merchandising and reconciliation at the back office.
2. Exclusive All-In-One Device
Our certified hand-held device combines optimum functionality (thermal printer, barcode scanner, wireless capability, etc.) with the most comprehensive suite of technology solutions for managing all aspects of in-flight service -- from creating and publishing dynamic galley plans and loading diagrams, to Service Scheduling, Meal Specification management, Service Ordering, Invoice validation, supply chain management, electronic procurement, and onboard retail sales management. The device is also wireless-ready for various WiFi and CDMA environments/or Ad Hoc functionality (device to wireless printer).
3. Business Intelligence & Reporting
Among its many sophisticated reporting functions, the TS4 device can reconcile real-time sales to inventory, reducing shrinkage. You can use it for merchandising and promotions, inventory management, and other services. We can even program it to identify passengers' buying trends.
4. Dedicated Product Management/Account Management
Designated account managers oversee daily operations and provide regular updates on all new enhancements to keep you on the cutting edge of technology.
5. Processing House
We provide authorization/settlement of credit card transactions and have funds to you within 2 business days.
6. Data Protection (Multi-card compliant)
Powered by a separate wireless communications network, TS4 processes transactions securely and meets the highest security levels required. This means you and your customers are protected by a CISP-certified, PCI Level 1 Service Provider operating environment.
7. Technical Service Desk Support 24/7/365
You have access to a knowledgeable, professional service desk team that averages 95% of first-call resolution of non-hardware issues. Plus, our developers and account managers are but a phone call or e-mail away, 24 hours a day, 7 days a week, 365 days a year.
TS4 is the catalyst to help customers generate additional on-board retail and ancillary revenues while giving them the merchandising information they need to manage and grow their onboard programs.
Have more questions? Click here for a Q&A;, or This email address is being protected from spambots. You need JavaScript enabled to view it. directly.
Find further details about one of eGate Solutions™ successful projects here.
To learn more about how eGate Solutions™ can help your company grow, please contact us.