Galley planning (GP4)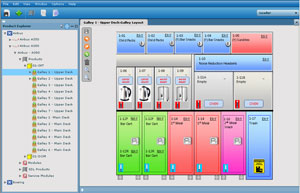 Accurate and efficient galley planning is a complex activity at the core of the logistics planning process and therefore a significant driver of successful in-flight services planning. Usually considered to be an art, galley planning can be a very time-consuming endeavor when done without technological support.
eGate Solutions™ legacy galley planning system has been a market leader since the mid-90s, and we continue to improve and enhance the service to meet changing industry needs. GP4 brings significant new features to the market such as fuel-cost impact analysis, integrated loading environment, task management, equipment balancing, container labelling, built-in version management and automatic publishing of packing instructions and on-line communication of changes to the supply chain.
GP4 can be easily integrated with other Material Planning systems to further increase data accuracy and reduce data-entry duplications.
Find further details about one of eGate Solutions™ successful projects here.
To learn more about how eGate Solutions™ can help your company grow, please contact us.